The Swinger Manual could be considered the "Idiots Guide to Swinging" or "Swinging for Dummies".


What is Swinging?

Over the years many people have come to the board asking if there was a out there, and there wasn't. There have been books on swinging, but nothing that really covered all the basics and then some. The greatest books out there were published a decade or more ago, and the info is just out of date. Once I decided to put out a guide for swingers, I knew I wanted it to be something that would cover everything, from the start of your journey into swinging all the way into the depths of your fun. I wanted to publish a guide for swingers that would not only help new swingers but experienced swingers , as well. The Swinger Manual isn't just my advice. Inside you will find advice from many of the people who have made the Swingers Board the place to get good advice on swinging topics since 1997. You'll find real advice and real experiences from other real swingers, from couples who have figured out what it takes to make swinging work for them, and from couples who have decided that swinging wasn't right for them.

Order The Swinger Manual
To the right you will see the basic layout of the Swinger Manual and the topics that it covers. Within each topic I give my own advice, which is a cumulative of my own thoughts and the combination of the great advice given on the Swinger Board. Following that, you will read quotes from real swingers who have shared their thoughts an experiences on that topic within the forums of the Swingers Board. You will find that often opinions vary.
The first chapter, "What Is Swinging", answers a common question. It gives meaning to some of the common terms used within the lifestyle and removes some misconceptions about those terms.
In "Who Swings", you will find out what types of people swing and just what the difference is between swinging and cheating.
In "Should We Swing", you are asked to ask yourself and your partner some important questions to determine if swinging is right for you. Many will read this book on their own before they ever bring up the topic of swinging to their partner, and this chapter will also help them determine whether or not it is worth the risk to do so.
Once you are ready to talk to your partner, "Discussing Swinging with
Your Partner" will guide you through the steps you may need to take to do so.
As you discuss swinging, you will want to discuss the question of "What Do You Want out of Swinging?" and hopefully come to a consensus.
After you have determined that you are both ready to swing, you will need to work on "Establishing Boundaries".
This chapter will help you do so. This chapter will help you understand how swinging couples keep things fair while swinging.
Before you jump in, make sure you weigh "The Risks of Swinging" before getting started.
"Getting Started" walks you through step by step how to choose playmates, where to find them and what to do once you get them, as well as addresses many issues you may encounter along the way.
The "Etiquette of Swinging" is something that many people don't stop to think about until it is too late.
Many find that it is time to take a break or quit swinging altogether at some point and "Knowing When to Call it Quits" will help you know when that time has arrived for you.
Preview The Swinger Manual Now

For those who have found the Swingers Board, they have discovered that you can ask any question and you will get many answers. What I've done with this book is to narrow down all the advice that has been given on the Swingers Board in the last decade and compile it together in an easy to read format. No searching to find the answer on a particular topic, it's all there in order from understanding who swings, to determining if Swinging is right for you. From understanding the various reasons why people swing, to the various ways that they choose to go about swinging. From determining your boundaries and understanding others, to understanding the risks you take when you choose this lifestyle. You will learn the general etiquette of swinging and most importantly you will be able to tell when it's time to call it quits and walk away from the lifestyle altogether.
The Swinger Manual is a "how to" book to help you make the most of your swinging lifestyle. Even if you are already an active swinger this book will have info that will help you and perhaps it might even make you think. If you've wondered how to get the swinger ad sites to really work for you, I've got tips on that. If you've not been able to really get into the club scene, I've got advice to help you make that work for you. Wherever you are on the road to swinging fun, this book will have some guideposts to help you make the next best turn.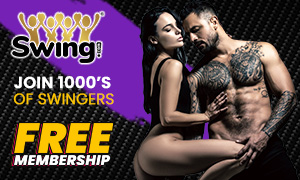 Interviews
What is Swinging?
Swinging vs Lifestyle
Full Swap vs Soft Swap

Who Swings?
Swinging is NOT for everyone
Swinging vs Cheating
Open Minded

Should We Swing?
Does your relationship have what it takes to swing?

Why Do You Want to Swing?
Fantasy fulfillment
Sexual fulfillment
To feel more Attractive
Friendship/ Relationships
The Unexpected benefits of Swinging
The cost of Swinging

Discussing Swinging With Your Partner
Bringing up the topic
Discussing Questions/ Concerns
Jealousy in swinging
What if we get a disease?
Will we go to hell for this?
Swinging Changes Everything

What Do You Want out of Swinging?
Soft Swinging
Full Swap
Same Room Swapping
Separate Room Swapping
Threesomes
Group Sex/ Orgies
Gangbangs
Swinging Separately & Open relationships
Polyamory

Establishing Boundaries
Setting Boundaries/ Rules
Swinging at the pace of the least comfortable
Communicating your boundaries to others
Keeping things fair while swinging
Communicating discomfort
What if a boundary gets crossed
Always have each others back

The Risks of Swinging
STDs
Indiscretion/ Being outed
Safety issues
Pregnancy

Getting Started
Swing Defensively: Choosing Swinger Playmates
Finding people to swing with
Who are you looking for?
The search for the single bi female swinger
First time swinging: Newbie or Experienced?
Is it important to be friends before swinging?
Swinging with existing (non-swinger) friends
Finding people online
Choosing a swinger ad site
Staying safe online
Writing your swinger ad
Responding to swinger ads
Dealing with rejection from swingers
The first meeting
Is there interest to play?
Getting the action started
Performance Issues
After the date
The places we swing
House parties
Swinger clubs
How to work a swinger club or social
Swinging is a participation sport
Dealing with rejection in public
Single males & swinger clubs

The Etiquette of Swinging
Discretion
What to wear
Getting too personal
Touching
Drinking too much
What if I see someone I know?

Knowing When to Call it Quits